By Natalie Johnson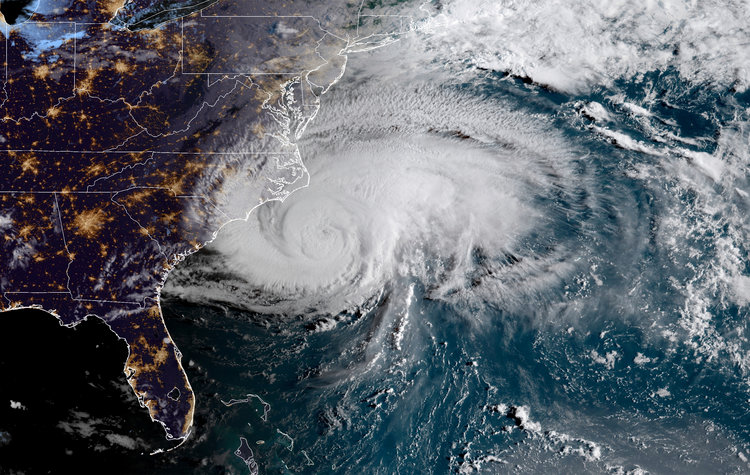 The Dynamics of Extreme Events, People, and Places (DEEPP) project brings together a team of interdisciplinary researchers from across different subject areas, including social and natural science researchers, engineers, demographers, public policy researchers, and data analysts in an effort to study the impacts of floods in Eastern North Carolina. 
Led by Elizabeth Frankenberg, Director of the Carolina Population Center in Chapel Hill, DEEPP seeks to better understand the environmental, social, economic, and psychological impacts of extreme events such as hurricanes on communities in Eastern North Carolina. The team combines survey data with flood mapping, satellite imagery, and storm surge modeling to provide more information to communities and policymakers to help them prepare for and recover from extreme events.
The DEEPP team received grant funding from the National Science Foundation under its Growing Convergence Research program — which is designed to fund interdisciplinary research and encourage researchers from different disciplines to work together on important issues, such as extreme events.
Dr. Michael Piehler, Director of the UNC Institute for the Environment and UNC Professor, described the importance of convergence amongst researchers when working on projects like DEEPP.
"The challenges we face related to flooding, particularly in coastal areas, can't be met by just looking at physical processes like the flooding itself," said Piehler. "They can't just be met by talking to people on understanding the challenges they're facing and trying to derive solutions — they all have to be integrated into one model".
"To converge the disciplines into one model well, you have to find a group of researchers that have known each other for long enough that they understand each other's research — this allows the team of various researchers to make tangible connections as they're working," said Piehler.
According to Piehler, the work that his team does for the project, such as examining natural systems like salt marshes around areas where flooding events occur and trying to determine the extent to which these natural systems are protective, would not be successful if not for the research completed by DEEPP Co-Investigator Dr. Rick Luettich on where flooding occurs.
"Everything that all of us do individually as researchers is better because it's within this context of transdisciplinarity — so over all these different disciplines, not just next to each other, but rather integrated with one another," Piehler said. "We are doing work we normally do, but we're doing it in a way that is reflective of some level of understanding of the adjacent discipline".
Anne Smiley, a Marine Sciences PhD student at UNC, works under Dr. Piehler's team for the DEEPP project, focusing on natural systems and the impacts of urbanization.  
As an environmental and marine scientist, Smiley works on the DEEPP team to understand the role that natural systems play in coastal resilience, such as looking at the question of how natural systems like salt marshes or swamp forest help to minimize the impacts of hurricanes and major floods in North Carolina.
"We're all just trying to figure out what different components there are that contribute to coastal resilience," said Smiley.
This in many ways exemplifies the primary goal of DEEPP — to cross disciplines in effort to find solutions to coastal flooding and its many effects on both the environment and communities.
"The whole DEEPP team is this interdisciplinary group of superstar scientists," Smiley said.
René Iwo, a Sociology PhD student at UNC and Research Assistant for DEEPP, described the importance of convergence for goals of DEEPP.
"For sociologists, lots of things – like health and economics – are interconnected. So are major life events or decisions over time. With most surveys, we'd only be able to get people's recounting of past experiences," said Iwo.
"But as DEEPP brings together expertise from various fields, we can actually more thoroughly learn about people's past experiences and how they plan or feel about their future, and also assess what their risk and resilience actually looks like moving forward. By combining the survey with other research arms under the DEEPP umbrella, we will hopefully make it that much more useful," Iwo said.
DEEPP seeks to create a more holistic picture of disaster effects and recovery in an effort to better mitigate negative impacts and speed up recovery from natural disasters — and this effort is aided by the team's interdisciplinary approach.