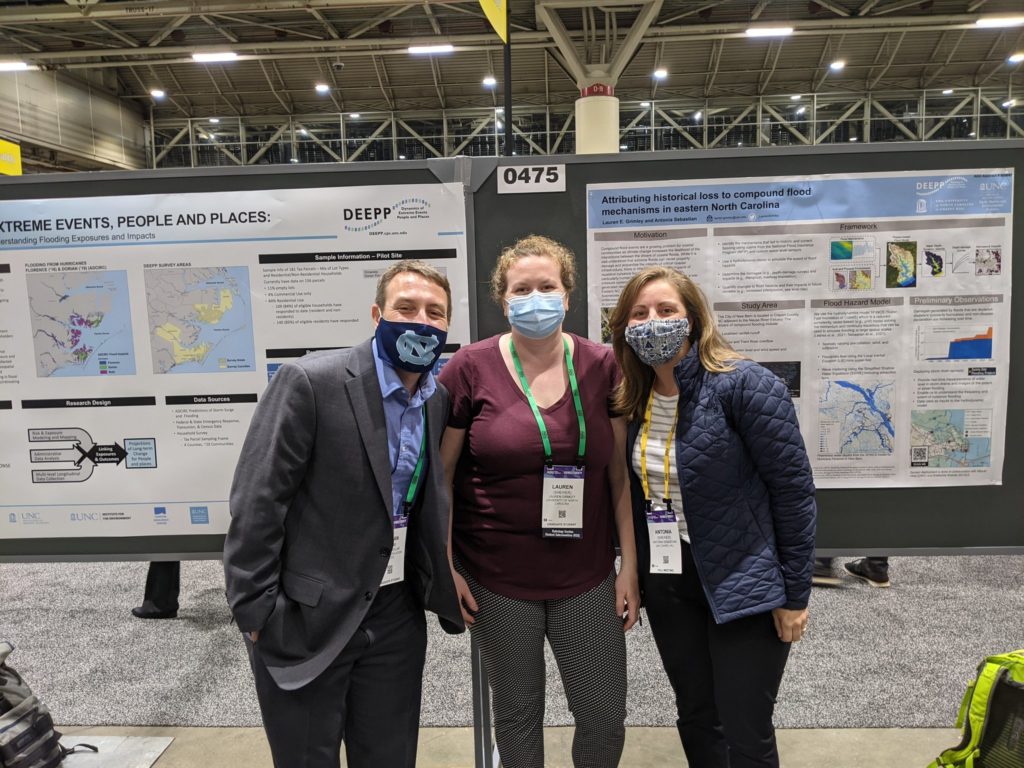 In December project faculty Mikuki Hino (City and Regional Planning), Antonia Sebastian (Geology), doctoral candidate Nathan Dollar (sociology), and doctoral candidate Lauren Grimley (Marine Sciences) attended the annual meeting of the American Geophysical Union. Our team presented our convergence framework and preliminary project results at an in person session, which provided an opportunity to lay out the ways in which our four key project hubs (social sciences, natural sciences, engineering, planning and policy) intersect to shape project research.
"The Dynamics of Extreme Events, People, and Places: A Convergent Approach to Understanding Flooding Exposure and Impacts."
Authors: Elizabeth Frankenberg, Todd BenDor, Philip Berke, Cassandra Davis, Nathan Dollar, Anna Gardner, Miyuki Hino, Nikhil Kothegal, Rene Iwo, Richard A Luettich Jr, Ted Mouw, Tamlin Pavelsky, Brian Frizzelle, Michael Piehler, Nora Schwaller, John Ratcliff, Anne Smiley, Antonia Sebastian, Conghe Song, Chao Wang.
The posted on the left (pictured above) was presented by Nathan Dollar (doctoral candidate in Sociology, UNC-CH) in Session NH15D.Concurrent, Consecutive, and Cascading Events: An Emerging Challenge for Risk Assessment and Management of Compound Natural and Natech Hazards II Poster
The poster on the right was presented by Lauren Grimley (doctoral candidate in Earth, Marine, and Environmental Science, UNC-CH) in session NH15D. Attributing historical insured loss to compound flood mechanisms in eastern North Carolina Poster, Authored by: Lauren Grimley and Antonia Sebastian.